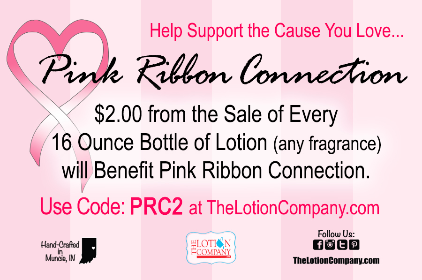 The Lotion Company, a leader in natural, handcrafted lotions, announces its partnership with Pink Ribbon Connection, a non-profit organization who provides emotional support, local resources and education to those touched by breast cancer across the State of Indiana.
"We are honored to partner with Pink Ribbon Connection and help in their mission to provide resources to anyone touched by breast cancer," said Jeff Gillentine, President and Chemist for The Lotion Company.
Mr. Gillentine continued, "Unfortunately, cancer treatments like chemotherapy and radiation, wreaks havoc with skin - making it dry, sensitive, and fragile. But, there are things that can be done to minimize these effects and help keep skin soft and supple during such a challenging time. Treat your skin as you would a baby's skin. Use products that are for dry, sensitive skin and are free of synthetic fragrances and colors. Free & Clear 24Hour Skin Therapy from The Lotion Company is hand-crafted, containing only natural ingredients such as aloe vera, macadamia nut oil and sesame seed oil. This luxurious recipe uses vegetable-based glycerin vspetroleum-based barriers to help with the greasy film some lotions leave after use."
If you are a cancer patient or have a friend or family member with cancer and would like to buy The Lotions Company's 24 Hour Skin Therapy, use coupon code PRC2 at checkout on www.TheLotionCompany.com website. For every purchase made using this coupon code, The Lotion Company will donate $2.00 to Pink Ribbon Connection.